The Livestock Partnership offers a full range of services to maximise the health and productivity of your dairy herd.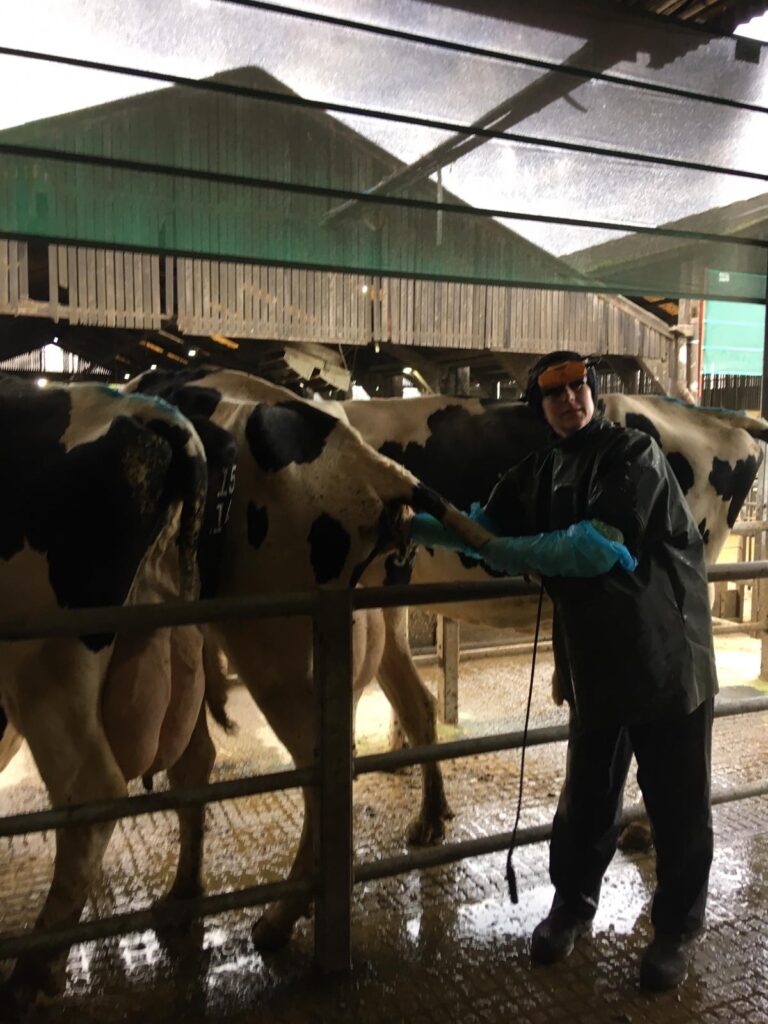 Fertility – Routine fertility visits are the largest part of our daily work and all of the team are equipped with ultrasound scanners. Pregnancy diagnosis is key, but even more essential is diagnosing non pregnant and non-cycling animals, and addressing problems on both the individual cow and herd level.
Mastitis – Somatic cell count and clinical mastitis can be looked at on both the individual cow and herd level. Individual treatment plans, prevention and control can be tailored to your unit. On a farm level, analysis, control and prevention are determined with on farm assessments, laboratory samples and data analysis utilising software programmes such as TotalVet. The Livestock Partnership offer trained AHDB Dairyco mastitis plan deliverers within the team.
Lameness – Lameness is an important cause of poor welfare and economic loss in the UK dairy industry. As a team we can provide individual cow treatment along with advice on lameness prevention within your herd. Mobility scoring is essential for awareness of lameness in individual herds and to be able to manage it successfully. Members of our team are RoMS (Register of Mobility Scorers) trained to assist you in this.
Herd health planning – In order to comply with Red Tractor Standards your farm should have a herd health plan written by your vet.  Our aim is to produce a useful document which will encompass all aspects of animal health and farm management.  It should be something that can be referred to on a regular basis, as a useful working document. We offer a reminder system to ensure that your plans do not lapse.
Young stock – As a team we are passionate about young stock as they are the future of your enterprises. We can offer assessment and advice on calf nutrition and daily live weight gains, disease outbreak diagnostics, colostrum and passive transfer monitoring and advice, building design and ventilation advice and synchronisation of maiden heifers.
Nutritional support – We work closely with many of our units' nutritionists to ensure a team approach, as well as offering services to monitor nutritional performance such as metabolic profiling, body condition scoring, rumen fill scores etc.
Data collection & analysis – The Livestock partnership use multiple software programmes to analyse on farm data such as Interherd, Interherd plus and TotalVet along with all farm specific programmes.
Artificial insemination – The team can assist you in training for DIY AI, provide refresher courses or trouble shoot any problems.
Genetics & Genomic advice – The Livestock Partnership can assist in assessing the genetic merit of your herd and moving it forward.
Embryo transfer – As a team we offer Repeat breeder embryo transfer. This is to increase longevity of individual cows in your herd by selecting cows that are good producers but struggle to get back in calf. These can be treated by implanting an embryo 7 days after being served. Studies have shown that this can increase the conception rate by up to 20%. Candidate cows for this service should be free of abnormalities when examined by the vets and have a history of showing good heats every 21 days but failing to hold.
Find out more
Get in touch to find out more about how we can help you